What is Optical brightener OB-1?
Optical brightener OB-1 allso called fluorescent brightener OB-1, optical brightener agent OB-1, OB-1 has the highest melting point among the optical brighteners, and is also the most widely applicable and the most sold brightener. Optical brighteners OB-1 have two appearance colors, yellow and green.
Optical Brightener OB-1 produced from China only,but world wilde use it to all kinds of plastics,or make master batches,then the optical brightener masterbatches and compound are used in the plastics industry.
As a professional optical brighteners OB-1 manufacturer, we have our own optical brighteners OB-1 factory. We are leading the optical brighteners OB-1 industry to a higher end.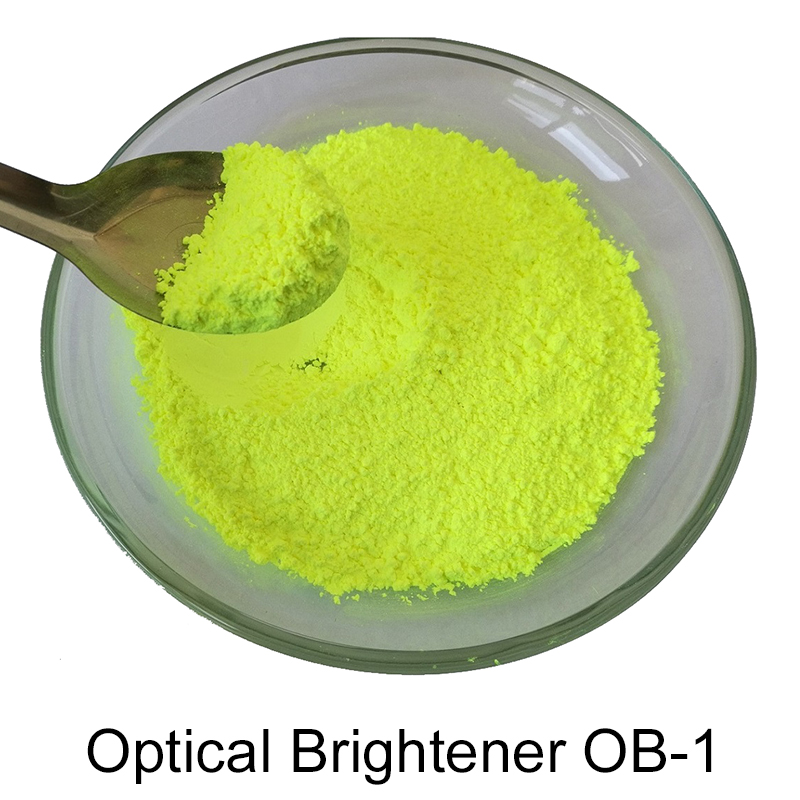 Optical brightener OB-1 INTRODUCTION
Product Name: Optical Brightener OB-1
Chemical Name:2.2'-(4.4'-diphenol vinyl) dibenzoxazol
CAS No.:1533-45-5
C.I. No.:393
Molecular Formula:C28H18N2O2
Molecular Weight:414
Technical Index:Appearance:yellowish green powder
Melting Point:357~359°C
Purity:≥98.5%
Recommend Dosage:200-500g per 1000kg material
Package:10KG/25kg per fiber drum with 450kg or 500 kg or 675kg/pallet
Optical Brightener OB-1 dosage
In plastics, the amount of fluorescent whitening agent is usually expressed as a percentage relative to the mass of the plastic.
The usual amount of transparent plastic is 0.0001%-0.001%, and the amount of white plastic is usually 0.05%-0.1%.
In paint and ink, the amount of fluorescent whitening agent is usually 0.02%-0.05%. When it comes to the specific dosage, it is recommended to get some small samples from the fluorescent whitening agent manufacturer, because less fluorescent whitening agent will easily cause whitening.The effect is unsatisfactory. Using too much will cause the brightener to separate out, so before determining
the dosage, take a sample test to achieve our desired effect.
Welcome to purchase optical brightener OB-1, we provide high quality optical brightener OB-1 with factory price.
Optical brightener OB-1 main market
East Asia: South Korea
Southeast Asia: Philippines, Vietnam, Laos, Cambodia, Myanmar, Thailand, Malaysia, Brunei, Singapore, Indonesia
South Asia: Bangladesh, India, Pakistan, Sri Lanka
Central Asia: Kazakhstan, Kyrgyzstan, Tajikistan, Uzbekistan, Turkmenistan
West Asia: Afghanistan, Iraq, Iran, Jordan, Israel, Saudi Arabia, United Arab Emirates (UAE), Turkey
Eastern Europe: Russia, Ukraine
Central Europe: Hungary, Germany, Italy
South Africa: South Africa
North America: Canada, Mexico
Central America: Guatemala, Costa Rica, Panama
South America:
Colombia, Venezuela, Ecuador, Peru, Brazil, Chile, Argentina
North Africa: Egypt, Algeria