Overview of Korean Chemical Fiber Industry
South Korea continued to expand its production capacity before 2000, but its production capacity began to gradually decrease after 2000. The chemical fiber production capacity in 1995 was 2.015 million tons, the production capacity in 2000 was 2.986 million tons, the production capacity in 2003 was 2.629 million tons, and the production capacity was 2,374 thousand tons in the first half of 2004.
Due to the imbalance of supply and demand worldwide, South Korea is experiencing a serious problem of overcapacity. In 2003, the excess capacity was 388,000 tons.
The Korean chemical fiber industry is still suffering from rising raw material prices, deteriorating fiscal conditions, and declining domestic textile production. One company stopped production this year, and some companies started to reduce production.
Polyester staple fiber
Chemical fibers are widely used in our daily lives. Generally used to make clothing, filter cloth, conveyor belt, tire curtain cloth or rope. According to incomplete statistics, 75% of polyester is used in polyester for chemical fiber, and polyester staple fiber and polyester filament are made according to the requirements of the textile industry. Polyester staple fiber is a fiber made by polymerizing polyester (PET), spun into tow after cutting.
Polyester staple fiber is a more common synthetic fiber, which is characterized by good elasticity, wrinkle resistance, shape retention, high strength, and abrasion resistance twice as high as cotton and three times as high as wool. Good thermal stability, good electrical insulation, no mold, no fear of insects. Because of its many characteristics, it has become more and more popular.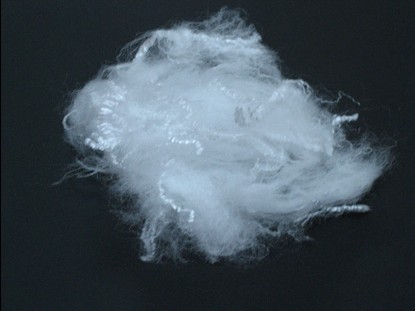 In response to the national call for environmental protection, many manufacturers choose to use recycled materials to make polyester staple fibers, which are then made into curtains, blankets, and pillows. However, the recycled materials are not as good as new ones, and many molecules are degraded, so the appearance of reproduced products is often not up to people's aesthetic level. At this time, it is necessary to use fluorescent whitening agent for polyester fiber to improve the grade of polyester staple fiber.
White polyester staple fiber and Optical brightener OB-1
The white polyester staple fiber is made of recycled materials, which looks yellow and unsightly, causing headaches for many manufacturers. They tried their best to solve this problem, but they did not achieve the expected results. Try to add the optical brightener OB-1 for polyester fiber, which is a dye that uses optical complementary color to brighten. The appearance is bright yellow-green crystalline powder, which can emit blue light. The product has high fineness, high temperature resistance, suitable for high temperature production, and low dosage.
Optical brightener OB-1 for PSF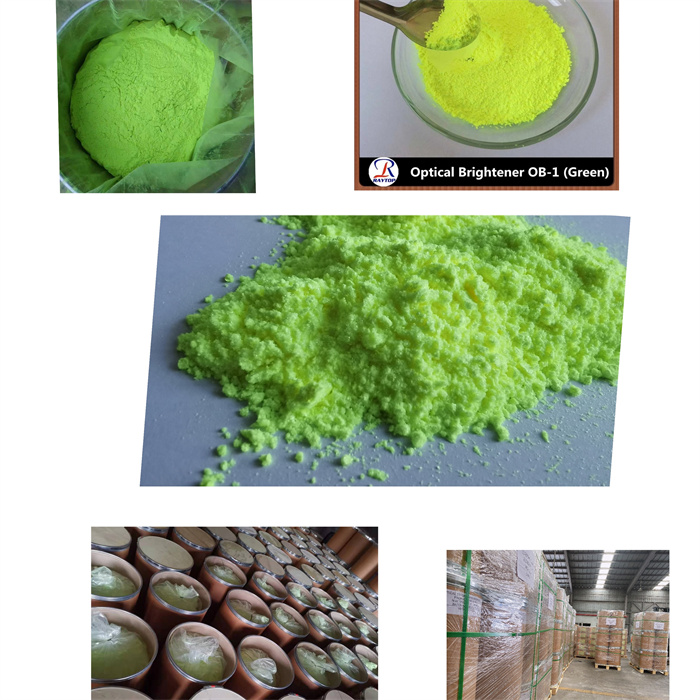 The Optical Brightener OB-1 has two appearance colors, green and yellow. The whitening effect is the same except that the shade of yellow OB-1 is a little purple. But for customers who produce color masterbatches, the yellow-green appearance of the fluorescent whitening agent OB-1 directly affects the appearance color of the particles, so be careful when choosing.
The optical brightener OB-1 is widely used in PP, PET, PS, ABS, HDPE, LDPE, PVC, PBT etc plastics industry. In addition, the optical brightener OB-1 is also widely used in polyester staple fiber and color masterbatch.
Optical Brightener OB-1
Chemical Name:2.2'-(4.4'-diphenol vinyl) dibenzoxazol
CAS No.:1533-45-5
C.I. No.:393
Molecular Formula:C28H18N2O2
Molecular Weight:414
Technical Index
Appearance:Yellowish/greenish powder
Molecular weight:414.4
Melting Point:356℃~360℃
Purity:≥98.5%
Fineness:≧200 mesh
Volatile content:≦0.5%
Ash content:≦0.5%
Uses:Mainly be used in whitening of polyester and plastic, as well in
whitening of Nylon during polymerization.
For whitening of polyester and nylon; also used in ABS, PS,PVC, HIPS, PA, PC, PP, PE,PET,EVA, PVC, etc.
Rate of use: (per 1000kg of substrate) Polyester: 75-300g EVA, PP, nylon: 75-200g
Package25kg per fiber drum