The plastics situation in Turkey:
The plastics in Turky market is extremely attractive. The industry has considerable competitive advantages in the global market. It is one of the fastest growing industries in the country's emerging industries, with an annual growth rate of 13.5%. This is mainly due to the fact that plastics is a young and dynamic industry in Turkey with strong demand. Turkey is a leader in the plastics industry in both the production and consumption of raw materials, enabling the industry to respond quickly to demand. In the past five years, even during the crisis, Turkey's plastic consumption has increased by 12%.
China-Turkey economic and trade cooperation:
In recent years, China-Turkey economic and trade cooperation has developed rapidly. The total bilateral trade volume between China and Turkey in 2005 was 4.9 billion U.S. dollars. By 2009, the bilateral trade volume between China and Turkey had reached 10 billion U.S. dollars. China is Turkey's 19th largest export market and 2nd largest source of imports. Bilateral high-level interactions are frequent. From January to November 2012, Turkey's exports to China were US$2.5 billion, imports from China were US$19.5 billion, and the trade deficit was US$17 billion, a record high, accounting for 22% of Turkey's total trade deficit. In mid-2014 The bilateral trade volume between Turkey is 27.7 billion U.S. dollars.
It is for this reason that the sales of optical brighteners for plastics in Turkey are also increasing.
What is optical brightener?
Optical brightener is a kind of fluorescent dye, or white dye, which is a complex organic compound. Its characteristic is that it can excite incident light to produce fluorescence, so that the dyed material can obtain a sparkling effect similar to fluorite, making the material visible to the naked eye very white, achieving a whitening effect.
The principle of the Optical brightener is to convert the invisible ultraviolet radiation absorbed by the product into purple-blue fluorescent radiation, which complements the original yellow radiation to become white light, and improves the whiteness of the product under sunlight. Optical brightener have been widely used in textiles, papermaking, washing powder, soap, rubber, plastics, pigments and paints.
Today we will tell you about the best-selling Optical brightener OB-1 on the market.
The main feature of the optical brightener OB-1
The main feature of the optical brightener OB-1 is its high melting point, which can reach 360 degrees Celsius, which is a good choice for the production of high temperature products. The optical brightener OB-1 has two appearance colors, green and yellow. The whitening effect is the same except that the shade of yellow optical brightener OB-1 is a little purple. But for customers who produce color masterbatches, the yellow-green appearance of the optical brightener OB-1 directly affects the appearance color of the particles, so be careful when choosing.
The optical brightener OB-1 is widely used in PP, PET, PS, ABS, HDPE, LDPE, PVC, PBT etc plastics industry. In addition, the optical brightener OB-1 is also widely used in polyester staple fiber and color masterbatch.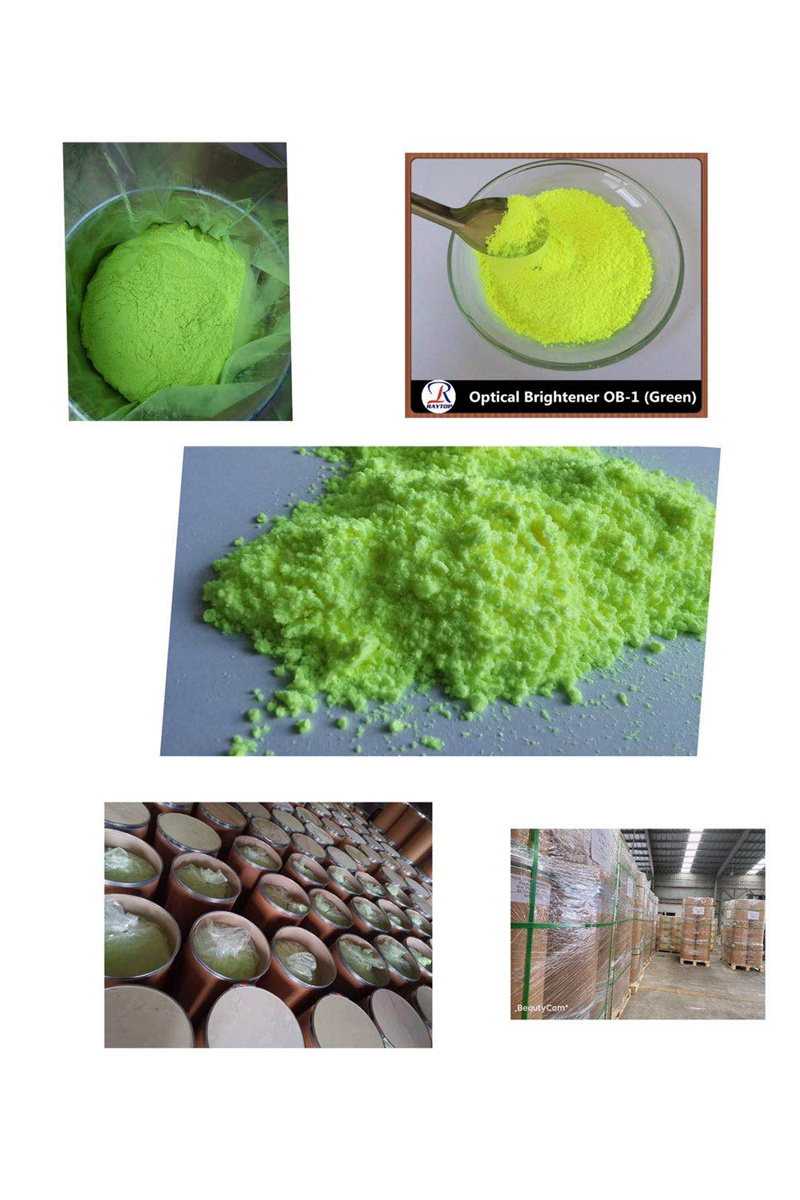 The data sheet of optical brightener OB-1
Optical Brightener OB-1
Chemical Name:2.2'-(4.4'-diphenol vinyl) dibenzoxazol
CAS No.:1533-45-5
C.I. No.:393
Molecular Formula:C28H18N2O2
Molecular Weight:414
Technical Index
Appearance:Yellowish OR greenish powder
Molecular weight:414.4
Melting Point:356℃~360℃
Purity:≥98.5%
Fineness:≧200 mesh
Volatile content:≦0.5%
Ash content:≦0.5%
Uses:Mainly be used in whitening of polyester and plastic, as well in
whitening of Nylon during polymerization.
For whitening of polyester and nylon; also used in ABS, PS,PVC, HIPS, PA, PC, PP, PE,PET,EVA, PVC, etc.
Rate of use: (per 1000kg of substrate)
Polyester: 75-300g
EVA, PP, nylon: 75-200g
Package25kg per fiber drum