Egypt market background:
◆Egypt has close economic and trade relations with neighboring countries. It is a member of multiple regional economic organizations and enjoys a variety of economic and trade preferential policies. Egypt is a member of the Greater Arab Free Trade Area and has joined the Common Market of East and South Africa (COMESA) Its industrial products exported to the EU also enjoy tariff-free treatment, and import tariffs are reduced.
◆Egypt is an important market radiating the entire MENA (Middle East and North Africa) region. The population development of the MENA region will soon exceed 20% of the EU's, forming a huge regional consumer market with a consumption power of 400 million people.
◆Egypt has a population of more than 91 million and is the largest polymer market in Africa. The market prospects are good. Foreign manufacturers have many opportunities to develop or expand their business in Egypt. According to relevant data, from 15 years to 21 years, the Egyptian polymer market is showing a year-on-year growth trend.
◆The Egyptian Plastics Department, which is part of the Federation of Egyptian Industries (FEI), stated that the total market volume of Egyptian plastics is 4.03 billion U.S. dollars, and the total investment is about 4 billion U.S. dollars. In addition to direct investment, according to media reports, Egypt and Russia signed a US$1.2 billion railway renovation agreement in 2018. The Ministry of Transport of Egypt plans to complete the upgrade and renovation of Egypt's railway infrastructure by 2020, which will cost about 45 billion Egyptian pounds. This will greatly improve Egypt's transportation construction and promote commercial development.
◆Egypt has a large-scale pipe and cable extrusion industry, which accounts for nearly 30% of plastic demand. Packaging accounts for 43% of polymer demand. In addition, the Egyptian automotive industry is the fourth largest automotive industry in Africa, accounting for 15% of plastic demand. The rubber and plastics market has a wide range of industry needs in Egypt. China-Egypt relations are developing friendly, and China is one of Egypt's important importers.
◆According to ITC data, in plastic raw materials, injection molding, blow molding, extrusion and other industries, China's imports from Egypt account for about 30% of Egypt's global imports, and the annual demand is relatively large, and the market potential is large.
In recent years, the number of optical brighteners exported to the Egyptian market has increased year by year, especially the number of fluorescent whitening agent OB-1 has increased significantly.
The main feature of the optical brightener OB-1 is its high melting point, which can reach 360 degrees Celsius, which is a good choice for the production of high temperature products. The fluorescent whitening agent OB-1 has two appearance colors, green and yellow. The whitening effect is the same except that the shade of yellow OB-1 is a little purple. But for customers who produce color masterbatches, the yellow-green appearance of the fluorescent whitening agent OB-1 directly affects the appearance color of the particles, so be careful when choosing.
The optical brightener OB-1 is widely used in PP, PET, PS, ABS, HDPE, LDPE, PVC, PBT etc plastics industry. In addition, the optical brightener OB-1 is also widely used in polyester staple fiber and color masterbatch.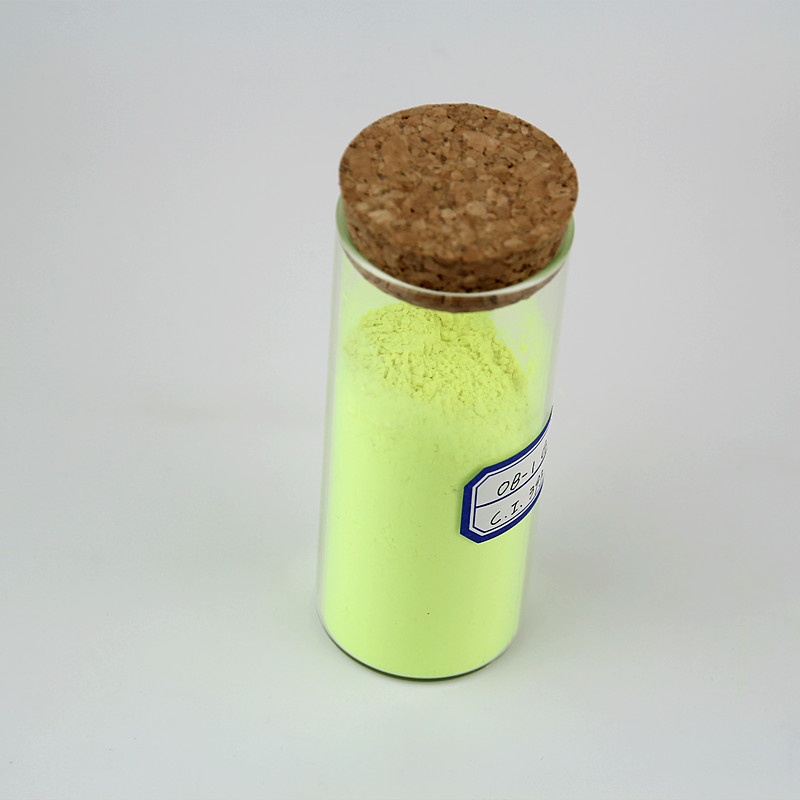 Optical Brightener OB-1
Chemical Name:2.2'-(4.4'-diphenol vinyl) dibenzoxazol
CAS No.:1533-45-5
C.I. No.:393
Molecular Formula:C28H18N2O2
Molecular Weight:414
Technical Index
Appearance:Yellowish OR greenish powder
Molecular weight:414.4
Melting Point:356℃~360℃
Purity:≥98.5%
Fineness:≧200 mesh
Volatile content:≦0.5%
Ash content:≦0.5%
Uses:Mainly be used in whitening of polyester and plastic, as well in
whitening of Nylon during polymerization.
For whitening of polyester and nylon; also used in ABS, PS,PVC, HIPS, PA, PC, PP, PE,PET,EVA, PVC, etc.
Rate of use: (per 1000kg of substrate)
Polyester: 75-300g
EVA, PP, nylon: 75-200g
Package25kg per fiber drum