Egypt has a sea and air transportation network connected with European, Asian, and African countries, and a land transportation network connected with African countries. The transportation is convenient, and the total population of the surrounding areas such as the Middle East and North Africa has reached nearly 600 million. As a member of the Middle East and North Africa Region (MENA), it is one of the economically and industrially developed countries in Africa. It has close economic and trade relations with neighboring countries, is a member of multiple regional economic organizations, and enjoys a variety of economic and trade preferential policies. Specifically, Egypt's plastics industry has developed steadily and rapidly. In 2015, the total consumption was as high as 3.5 billion US dollars, a growth rate of more than 10%. In the first half of 2016, Egypt's plastic products imports increased significantly, reaching 77%. While the demand is huge, the domestic supply is very limited. Up to 83% of the plastic needs to be imported. It can be seen that Egypt is a market with great potential and healthy development, a far from saturated market, and another emerging market for Chinese companies to create foreign exchange. Egypt's import and export trade is dominated by imports and has a certain dependence on the international market. In order to promote the development of foreign trade, Egypt has adopted a series of measures such as further trade liberalization, tariff reduction, lower operating costs, enhanced transparency of foreign trade management, and incentive measures to improve port services, customs procedures, quality control and product standards. In addition, import tariffs have been drastically reduced, the production costs of domestic enterprises have been reduced, and the development of national industries has been supported. All these have provided a good market environment for foreign companies to enter the Egyptian and Middle Eastern markets.
The plastics industry in Egypt has also developed rapidly in recent years, so the import volume of plastic raw materials is also increasing, such as the extrusion and injection molding of products such as PVC, PP, and PE. The amount of matching product additives is also increasing. Constantly rising.
Shandong RAYTOP Chemical is a leading manufacturer of optical brighteners in China. It has been expanding its market share in various markets over the past 15 years. However, in the past three years, the African market has grown the most, especially Egypt. The largest export volume to Egypt is the optical brightener OB-1, which is mainly used by downstream customers in industries such as masterbatch, PSF, PVC, and pp. Below we mainly introduce the product of optical brightener OB-1.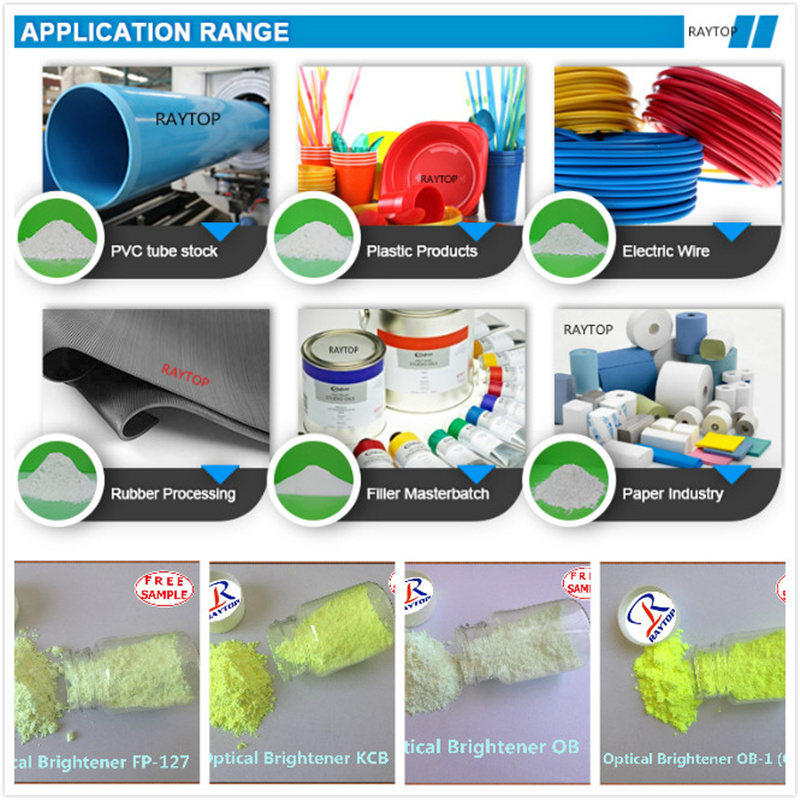 Optical Brightener OB-1 393
The main feature is the high melting point, which can reach 360℃ degrees Celsius, which is a good choice for the production of high temperature products.
The Optical Brightener OB-1 has two appearance colors, green and yellow. The whitening effect is the same except that the shade of yellow OB-1 is a little purple. But for customers who produce color masterbatches, the yellow-green appearance of the fluorescent whitening agent OB-1 directly affects the appearance color of the particles, so be careful when choosing.
The optical brightener OB-1 is widely used in PP, PET, PS, ABS, HDPE, LDPE, PVC, PBT etc plastics industry. In addition, the optical brightener OB-1 is also widely used in polyester staple fiber and color masterbatch.
Optical Brightener OB-1
Chemical Name:2.2'-(4.4'-diphenol vinyl) dibenzoxazol
CAS No.:1533-45-5
C.I. No.:393
Molecular Formula:C28H18N2O2
Molecular Weight:414
Technical Index
Appearance:Yellowish/greenish powder
Molecular weight:414.4
Melting Point:356℃~360℃
Purity:≥98.5%
Fineness:≧200 mesh
Volatile content:≦0.5%
Ash content:≦0.5%
Uses:Mainly be used in whitening of polyester and plastic, as well in
whitening of Nylon during polymerization.
For whitening of polyester and nylon; also used in ABS, PS,PVC, HIPS, PA, PC, PP, PE,PET,EVA, PVC, etc.
Rate of use: (per 1000kg of substrate) Polyester: 75-300g EVA, PP, nylon: 75-200g
Package25kg per fiber drum