Plastic products are not unfamiliar to everyone and can be seen everywhere around us. Due to the wide range of use of plastic products, there are more and more plastic manufacturers, and the industry is doing more and more. Of course, the market demand is great, and the competition will be fierce.
Everyone knows that the recyclability is relatively high. There are countless large and small plastic manufacturers in China, and most of them choose to recycle plastic for secondary processing. However, as people's living standards continue to improve, there will be relatively high requirements for the appearance and quality of products. Many plastic manufacturers will ask, do I need to add optical brightener to plastics? Is it okay to use titanium dioxide? Then we will talk about the Optical Brightener for plastics.
First of all, we need to understand the role of Optical Brightener and titanium dioxide. Although both are whitening substances, their principles are quite different. One of the biggest advantages of titanium dioxide is its low price. However, many manufacturers who have used titanium dioxide have found this problem. After adding a certain amount of titanium dioxide, the whiteness can no longer be improved. The effect of covering is like applying a thick layer of liquid foundation on a person's face, which gives people the impression of false white, unnatural, and the amount of addition will be very large. Many manufacturers give up after using the product because the appearance of the product is unnatural.
The plastic optical brightener is an optical effect. It has a special whitening effect that can whiten the slightly yellowish substrate without damaging the substrate. Its working principle is to absorb invisible light and emit visible light without any chemical reaction. It is not that the product turns white, but the complementary effect of different colors of light through ultraviolet light to form white light that we can see with the naked eye, which will increase the whiteness and brightness of the plastic product, so that it is whiter and whiter. The colorful ones are more colorful.
Among all the optical brighteners for plastics, optical brightener OB-1 for plastics is the most popular in the market.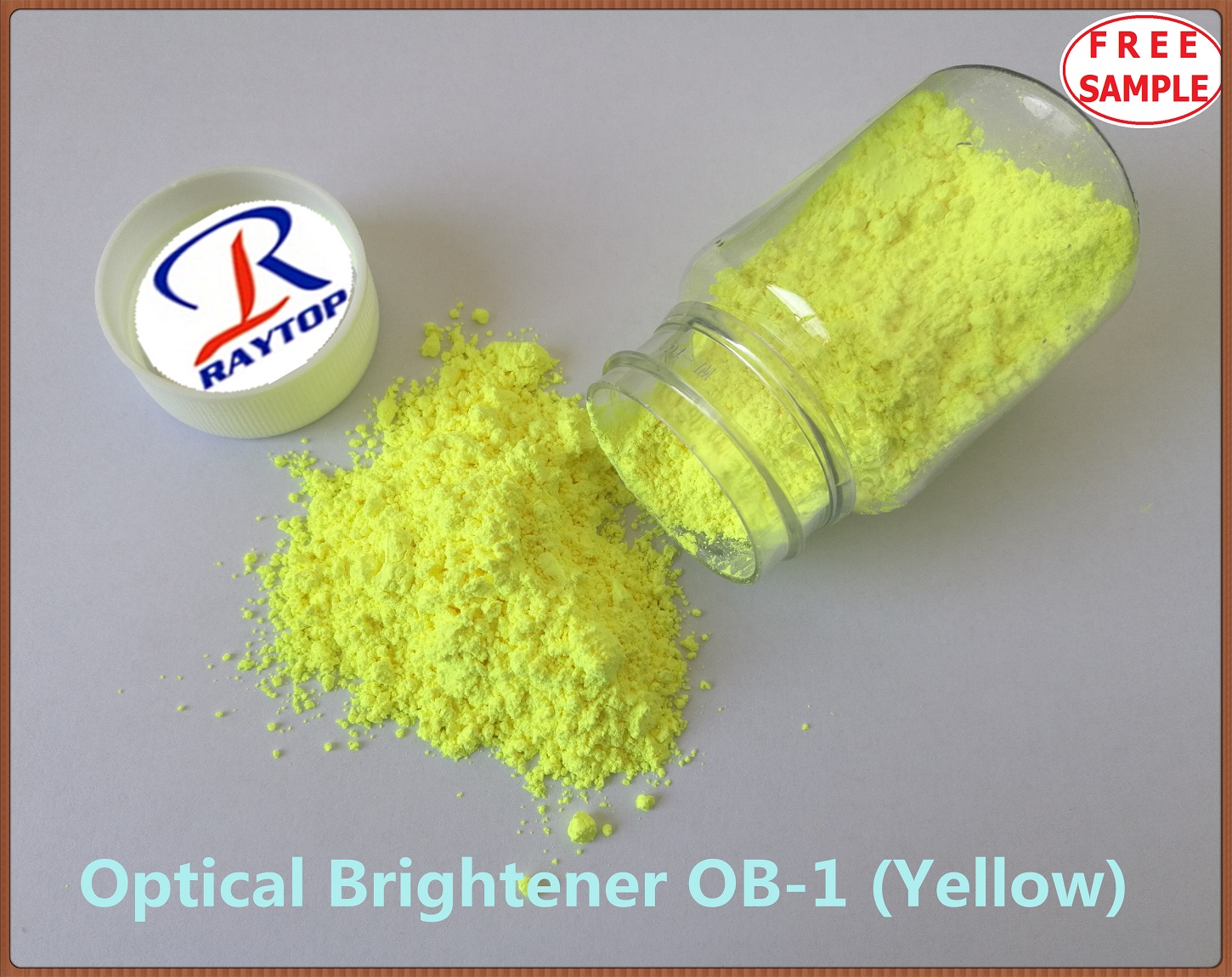 Product Name:Optical Brightener OB-1 for plastics
Chemical Name:2.2'-(4.4'-diphenol vinyl) dibenzoxazol
CAS No.:1533-45-5
C.I. No.:393
Molecular Formula:C28H18N2O2
Molecular Weight:414
Technical Index:Appearance:yellowish green powder
Melting Point:357~359°C
Purity:≥98.5%
Recommend Dosage:200-500g per 1000kg material
Package:10KG/25kg per fiber drum with 450kg or 500 kg or 675kg/pallet
Optical Brightener OB-1 produced from China only,but world wilde use it to make master batches,then the optical brightener
masterbatches and compound are used in the plastics industry.