Situation of International Detergent Market
In 2013, the total scale of the global detergent market reached 154.8 billion U.S. dollars, with an average annual compound growth rate of 3.0% in the past five years. Among them, the Chinese market is far ahead with a compound annual growth rate of 13.5%, driving the growth of the global detergent market. India, Latin America, Africa and other regions are also growing rapidly. Among the developed markets, Japan has a more obvious growth rate, with an average annual compound growth rate of 3.3% in the past five years; while the markets in developed countries and regions such as the United States and Western Europe tend to be mature and stable, with slower growth rates and even negative growth. In terms of annual per capita household cleaning products consumption, Japan and the United Kingdom have the highest per capita consumption, exceeding US$90/person; followed by France, Italy, the United States, Germany and other countries, with per capita consumption of 70-90 US$/person.
Fluorescent brightener is an important additive for the whitening effect of washing products, so what is the main reason for adding Fluorescent brightener?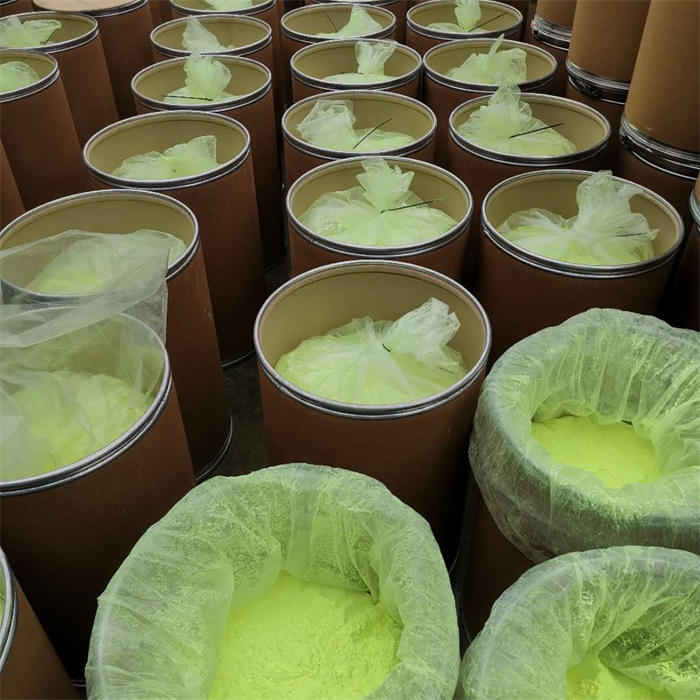 Reasons for fabric yellowing:
1. The macromolecules that make up the textile fibers themselves turn yellow due to the effects of light, heat, climate and other chemical substances;
2.It is caused by the physical attachment of natural dirt (such as dust) and human secretions (such as sweat) attached to the fiber surface or inside, and the redox yellowing, light yellowing and thermal yellowing of these secretions.
The role of Fluorescent brightener in detergent:
The Fluorescent brightener itself has no decontamination ability, only whitening and brightening effects. This effect is the result of the reflection of light on the clean surface of the items after washing and decontamination, making the washed items look more visually Clean, white items look whiter, and reduce the yellowing of fabrics during use and washing, so that the color and pattern levels of light-colored and printed fabrics are more distinct and more colorful.
How to use Fluorescent brightener in detergent and soap?
1. How to use fluorescent brightener in detergent
Powder detergent generally uses dry mixing method, solid phase neutralization molding method, spray drying molding method (high tower method) and agglomeration molding method;
Liquid detergent generally adopts stirring and mixing method;
Paste detergents generally use the carboxymethyl cellulose method and the soap method.
2. How to use fluorescent brightener in soap
Laundry soap: add when blending
Soap: Add it when blending, commonly used C.I. Fluorescent brightener 85 & 351.
As usual, Fluorescent brightener CBS-X ,CXT,DMS,DMA-X etc used for deteregnt,and CBS-X 351 Fluorescent brightener CAS NO.:27344-41-8 is most popular.
TDS of CBS-X 351 Fluorescent brightener
Product Name:Fluorescent brightener CBS-X
CAS No.:27344-41-8
C.I. No.:351
Molecular Formula:C28H20S2O6Na2
Main Chemical :CompositionStilbene derivative
Appearance:yellow green powder or granule
E-value:1120-1140
Treating Process
1.Detergent(powder and paste form): 0.04-0.2%
2.liquid detergent: 0.2-0.5%
Uses of CBS-X 351 Fluorescent brightener:
Can be used as brightener for detergent, cotton, linen, silk, polyamide fiber, wool and paper .It can be added to any process of any type of detergent.
Package:25kg per fiber drum
Quality index:
1) Appearance: yellow green powder
2) Smell: tasteless
3) Large absorption wavelength nm: 348 ± 1
4) Extinction value: 0.829-0.885
5) 1% extinction coefficient: 1120-1181
Performance characteristics:
Fluorescent brightener CBS-X is a biphenyl ethylene biphenyl optical fluorescent brightener. It is a fluorescent brightener for detergent. Soluble in water, it has good whitening effect on cellulose fiber, polyamide and protein fiber at room temperature. The whitening effect of its high concentration product on cotton cloth is 3.5 times that of stilbene bis triazine fluorescent brightener, and has good micro cyan tone and solubility and dispersion. It has high stability to sodium hypochlorite and belongs to bleaching resistant fluorescent brightener.
Scope of application:
Used in synthetic detergent, soap and soap industry.
It is recommended to add the following amount:
Dosage (% w / W for detergent)
Ordinary washing powder: 0.01-0.05
Soap, soap: 0.01-0.05
Concentrated washing powder: 0.05-0.2
Fabric softener: 0.01-0.05
Liquid detergent: 0.05-0.2
Washing cream: 0.005-0.02
Transportation: during transportation, inversion, exposure, collision and humidity shall be prevented, and the package shall not be damaged.
Storage: it shall be stored in a cool, dry and ventilated warehouse for two years.
Action principle
The function principle of fluorescent brightener is to absorb the invisible ultraviolet light in the light and emit visible blue light. After superimposing with the yellow light emitted by the fabric, it complements to form white light, so as to increase the white light emitted by the fabric. The naked eye can feel that the white fabric becomes bright and white obviously, which is the bright white effect. As the yellow light emitted by the fabric decreases and the white light increases, the naked eye can also feel that the fabrics complementary to yellow (such as pink blue, pink, pink purple, etc.) become more bright and bright, which is the brightening effect.
Performance characteristics
Fluorescent brightener CBS belongs to styrene biphenyl derivative. Its large absorption spectrum in distilled water is 349nm. Its solubility in water can reach 25g / L at 25 ℃ and 300g / L at 95 ℃. Its main features:
1. It has strong fluorescence and high efficiency, and the dosage is only four times that of styrene triazine fluorescent brightener such as domestic VBL, #31, #33 etc.
2. It is extremely resistant to chlorine bleaching, hydrogen peroxide bleaching, strong acid and alkali, so that it can play a high whitening effect in detergents containing whitening agents.
3. It can significantly increase the whiteness of washing powder, soap and soap and improve their appearance quality.
4. Good swimming mobility. At low temperature, small bath can whiten clothes evenly and will not produce spots than hand washing and machine washing.
5. It has strong whitening effect. It has high whitening effect on cellulose fiber, polyamide, protein fiber and cotton cloth in cold and warm water, while other fluorescent whitening agents have poor whitening effect at low temperature.
6. The whitening speed is fast, and the fabric can reach high whiteness in a very short time.
7. It has excellent dry and wet sun fastness and excellent Perspiration resistance, while styrene triazine fluorescent brightener is easy to decompose during the cold drying of the washed fabric and turn the fabric yellow under the action of perspiration.
8. After washing for many times, the effect is better. The whiter the more washed, the more colorful the more washed. The styrene triazine fluorescent whitening agent will make the fabric green and dark and reduce the whiteness after repeated use.
9. Fluorescent brightener CBS has no harm to human body and no pollution to environmental safety under the recommended dosage and general use.