The Canadian pulp and paper industry has an important influence in the world, and has received the attention and learning of the world's peers. Now the Canadian pulp and paper industry is also facing transformational challenges. The Canadian Institute of Forest Products Innovation has strengthened the new combination of wood fiber and other fields. Content research, through innovation, has given paper companies a new lease of life and found a new way out. At the same time, with people's high requirements for the quality of life, there are also higher requirements for the whiteness of paper, so we have to mention our product-fluorescent brightener for paper making.
There are many kinds of fluorescent brighteners used in the paper industry. According to their forms, they can be divided into powder and liquid. The liquid part is divided into fluorescent brighteners BA-L, APC and 357 due to their different functions and application.
The main difference between fluorescent brighteners BA-L, APC and 357 is:
Fluorescent brightener BA-L: suitable for use in the wet end of large paper mills, with high whiteness, low negative charge, and little impact on the anion charge of the system;
Fluorescent brightener APC: It can be used in various stages of slurry, surface glue, coating, etc., the price is low, tetrasulfonate is easy to turn green in the surface glue, and can not be high white;
Fluorescent brightener 357: Suitable for use in surface sizing and coatings, and can achieve high whiteness.
Today we will focus on the product in liquid fluorescent whitening agent APC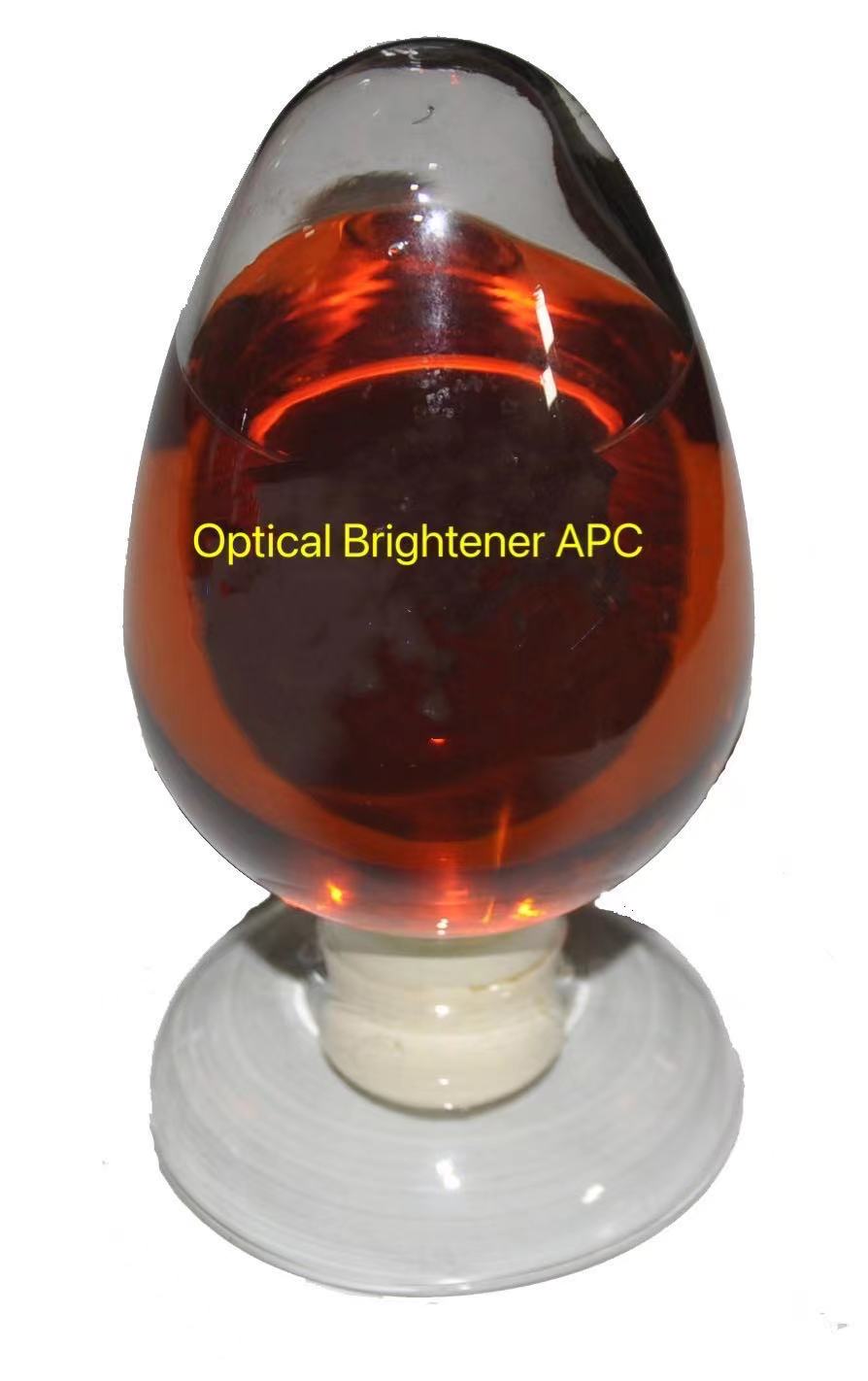 C.I.:220
Appearance: orange red to red transparent liquid
Fluorescence intensity: 35±1 points (standard product)
Maximum absorption wavelength: 350nm
Performance characteristics: The color shade is blue, the affinity to cellulose fibers is medium, it is stable to peroxides, hypochlorites, reducing bleaching agents, alkali and hard water resistance, and acid resistance is medium.
Uses: Mainly used for surface sizing and whitening of surface coating of pulp and paper, and also used for whitening of cotton fiber and viscose fiber. It has very good compatibility with resin finishing agents.
Suggested dosage:
1. Add in the pulp, dosage: 0.05-1.2% (absolutely dry pulp).
2. It can be used together with commonly used starch, CMC and PVA in surface sizing, and the conventional dosage is 0.5-10g/L.
3. In the coating process, it will get better results when used together with PVA. CMC. starch, the conventional dosage: 0.1-1.4% (based on the weight of the coating).
Packing: 200kg plastic drum, single piece net weight 230kg; 1 cubic ton drum, single piece net weight 1100kg.