As we know Optical Brightener OB-1 used for Polyester stable fiber is an important application.Now let's see why.
Polyester fiber is the most widely used chemical synthetic fiber today.It is mainly divided into two types: polyester staple
fiber and polyester filament.
Polyester Staple fiber, also called small chemical fiber, is made by PET recycle material.For cost considerations, many manufacturers choose to use recycled materials to make polyester staple fiber.But the recycled material is not as good as
the new material, many molecules are degraded,
The appearance of the products produced again often fails to meet people's aesthetic standards.So people use optical brightener for polyester fiber to improve the grade of polyester staple fiber.
Optical Brightener OB-1 is a dye that uses optical complementary colors for brightening,appearance is Yellow Green,emit blue light.
The product has high fineness, high temperature resistance and less dosage(300-500g per 1000 kg material),it also can give high whitness,Can effectively whiten and brighten polyester staple fiber.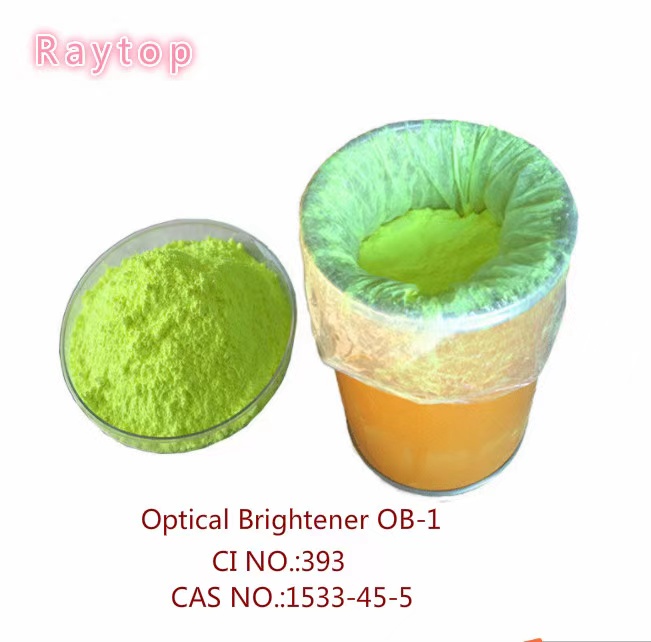 Product Name:Optical Brightener OB-1
Chemical Name:2.2'-(4.4'-diphenol vinyl) dibenzoxazol
CAS No.:1533-45-5
C.I. No.:393
Molecular Formula:C28H18N2O2
Molecular Weight:414
Technical Index:Appearance:yellowish green powder
Melting Point:357~359°C
Purity:≥98.5%
Recommend Dosage:200-500g per 1000kg material
Package:10KG/25kg per fiber drum with 450kg or 500 kg or 675kg/pallet